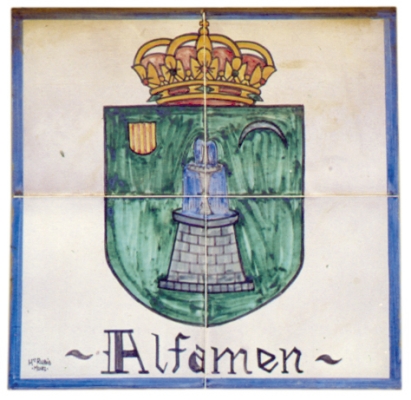 Heritage, culture and traditions
Alfamén has a population of 1498 inhabitants and an area of 102 km2. It is located at an altitude of 373 meters and 48 kilometers to the southwest of Zaragoza thus belonging to the Campo de Cariñena region, known for its wines. The inhabitants of this town and people are known as veins due to their nobility although those from Alfamén are called Alfamenense.
It is located on a broad plain, where only small rolling hills alter the smooth layer of the land covered with flowers or fruit trees each spring or the tender green leaves of the vineyards.
The town festivities are held on August 16 in honor of San Roque, and in those days Alfamén is a town alive with bulls, cows, dancing and everything you need to make people enjoy the celebration. Carnivals also take place in February and San Isidro on May 15.
It has a wine cellar which belongs to Cariñena DO.
CABEZO DE ALTOMIRA
ACCESS DESCRIPTION: Along the path of the old cemetery, about 4 kilometers from the village.
GENERAL DESCRIPTION: Hill located to the north east of the town center where a village was located in the middle of the Bronze Age. From there you can see the horizon and miles and miles of fields, therefore, if they were attacked, they knew hours before their enemy was coming and they were prepared to fight. From here the magnificent views of Sierra de Algairén can be seen as well as the depression of Cariñena and La Muela wind farm.
RESTAURANT
ASADOR VALERO
La Balsa, 10
+34 976 626 233