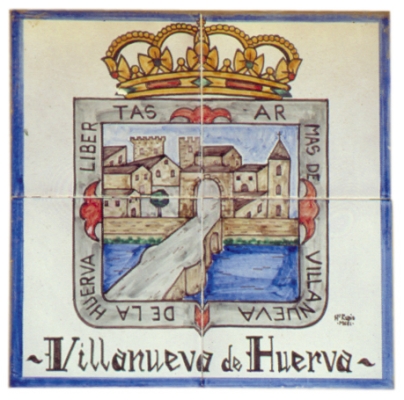 HERITAGE
The church from the Renaissance period, Nuestra Señora de los Ángeles, stands out because of its mujedar tower, its altarpieces and an excellent organ.
Close to this monument is located the medieval bridge on the river from the end of the 16th century.
Regarding its natural heritage, Villanueva de Huerva has a singular orography, in which plains are combined with mountains and hills surrounded by an indigenous pine forest with ravines and meanders next to the Huerva River. Trees are classified as singular with medicinal water sources.
The archeological sites found in the surrounding hills named Cabezo de San Pablo and San Vicente are the footprint of Villanueva's history, like ichnite sites (dinosaur footprints), the only ones found in the province of Zaragoza and declared as a Place of Cultural Interest.
CULTURE AND TRADITIONS
The festivities of this town are celebrated the 3rd Friday of August in honor of San Blas, the patron saint of the town. Another traditional festival is San Anton, when people from Villanueva create a bonfire keeping it lit for several days.
It has an excellent winery which belongs to Cariñena (DO).
RESTAURANTS
RINCONADA DE FELINO
Ctra. Cariñena-Belchite, s/n
+34 976 143 415