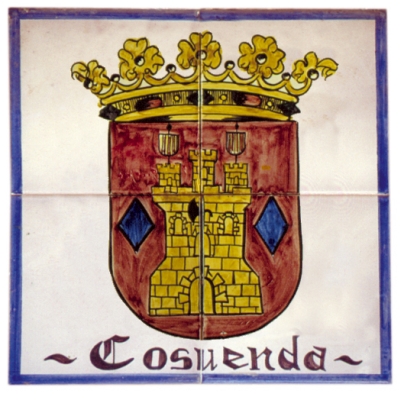 HERITAGE
NUESTRA SEÑORA DE LOS ÁNGELES CHURCH
Building started in 1681 and was finished in 1686. The building is free standing with respect to any other construction.
The structure is supported by a latin-cross layout, with eight chapels between the buttresses and one more on every transept arm.
The tower is attached to the main façade, it is a square design with interior perimetral stairs in its first section, with two, eight-sized upper sections, topped with an octagonal drum and a dome. Inside of this tower, there are five bells.
The transept arms present buttresses in its two lateral façades. Those located on the left are relieving arches that cross the Almonacid street which runs along the left-side of the façade.
Its façade is built in brick, the entrance is a semicircular arch and there are two dials inside, one a new work and the other is a restored sun dial.
Inside of the building, there is a nave with chapels between the buttresses, three stretches before arriving to a discreet transept, chancel and behind the main altarpiece, is the sacristy.
CULTURE AND TRADITIONS
EL DANCE DE COSUENDA
The Dance of Cosuenda is a popular theatric representation with dialogues between pastors, Moors and Christians and fights between the Good and Evil (Angel and Devil). Romances and proverbs are recited and there are dances with sticks, swords, arches or ribbons, accompanied with traditional music.
It is one of the most complete dances in Aragón, although the tradition was lost in 1910, since the people who knew it had passed away, thus making it almost impossible to recover.
More information: www.lugardecosuenda.org
LAS RONDADERAS
Las Rondaderas is an expression of folklore that is typical from Cosuenda in which different kinds of feelings are represented.
In olden days, these expressions were brought to life in different rhythms, depending on the place, moment and feeling to be expressed, they were known as cantas, folías etc.
Nowadays, it is only preserved one day each year, known as the "fiesta de Quintos" or "Quintada", the first Sunday of February, although other spontaneous initiatives take place in the streets in certain moments, inside the houses, or in wineries.
More information: www.lugardecosuenda.org
COUNTRY HOUSES
NATURA
C/ San Cristóbal, 14-16
LA FONTANILLA
C/ San Cristóbal, 3
APARTAMENTO RURAL CHARO
+34 976 627 257
HOSTELS
PENSIÓN CHARO
C/ La Fuente, 5
+34 976 627 257
ALBERGUE JUVENIL SALESIANO
+34 976 812 420
ADVENTURE
MULTIAVENTURA SIERRA ALGAIREN S.L.
C/ ESCUELAS S/N COSUENDA
+34 976 627 212 / 687 925 334 / 687 925 335
Paint ball, quads, bikes and orientation