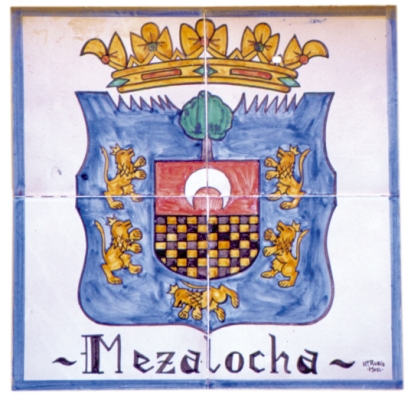 HERITAGE
SAN MIGUEL ARCÁNGEL CHURCH
CHRONOLOGY: 16th century
GENERAL DESCRIPTION:
It is a baroque style building that has a mudejar tower constructed late in that period.
The layout of the church is a single nave with a discreet transept only at floor level; it has chapels between the buttresses with altarpieces from the 18th century. Its single nave is covered by a dome with lunettes and the transept with a dome over pedentives. The most ancient image is, undoubtedly, the one located in the altarpiece of Nuestra Señora de la Esperanza, it's an image from the late 13th century.
Outside, is the tower which has three floors: the first one has a square floor plan, and the other two are octagonal. The building material is brick and the decoration is classified as mudejar style, although very late in that period.
Its decoration is developed in two overlapping bent arches. Moreover, it has four turrets on its square base and is surmounted by a conical spire.
The facade is made of stone and brick with the image of the patron saint of the church, Saint Michael.
CULTURE AND TRADITIONS
SAN ANTONIO DE PADUA DE MEZALOCHA CHOIR
It was founded on November 22, 1999 and started its activities in April (2000), directed by José Marco Campos, to whom the choral will always be grateful for his work.
In November 2001, José Manuel Diez Resina took his place and musical activities restarted. After this phase, in February 2003, Eulalia de Mezalocha started to direct the choir, until now.
The participation in choir contests like the one in Zuera in 2002, was the first time the choir sang out of town. After this performance, the group participated in the choir meeting of Alagón (2003), in Boquiñeni (2004) as well as in the high mass of the Regulating Council Harvest Festival.
The group has its own jota (regional folk song), written by María Jesus Ansón who writes poems as well. This jota song is entitled "Viva mi pueblo" with lyrics about the town of Mezalocha.
TYPICAL SWEETS FROM MEZALOCHA
During the local festivities of Mezalocha, people cook rosquillas for San Antonio, Holy Week and San Pedro Mártir.
For 50 years people have prepared a French recipe which is a dessert called CORNE. This recipe was brought by a lady who came to live in Mezalocha. She didn't tell anybody about it until she left the town.
The main ingredients are: flour, egg and sugar. People can buy these sweets in the bakery and taste them in particular houses.