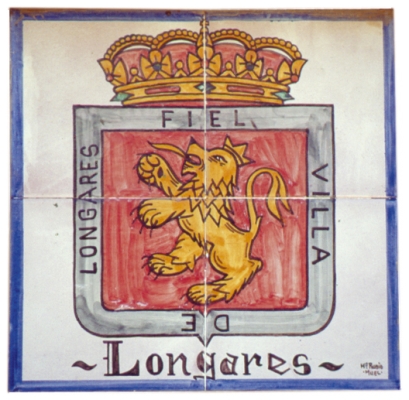 HERITAGE
Artistically, Longares has extraordinary value. Its parish temple was declared an Artistic Historical Monument in 1967 is as big and spectacular as a cathedral, and the jewels in its interior are worthy of being located in the best religious art museums. The recently restored mudejar tower attached to the temple is one of the most beautiful examples of mudejar towers in Aragón. Spectacular views of the plain and large tracts of vineyards that surround the village can be seen from the top of the tower.
The condition of fortified palace in the past has provided evidence of its ancient wall in three of the five access doors to the village.
CULTURE AND TRADITIONS
CULTURAL MAGAZINE "EL RUDERO"
Every three months, the Rudero Cultural Association publishes this magazine with different articles about cultural aspects in the town: art, history, traditions etc.
PAINTING PRIZE "COMARCA CAMPO DE CARIÑENA"
It is annually organized by the cultural association.
Themes must be related to the region and will be exposed in Longares during the patron saint festivities (from September 1st to the 8th)
Afterwards, the artwork is moved to Cariñena's wine museum where it can be visited for one month.
The jury will decide who the winners are the last week of August.
VILLA DE LONGARES CHOIR
This choir initiated its activity in November 2002.The social aim of the choir is to participate in the musical activities that already exist in the town, provide a service to entities and organizations, attend to people's requests for singing in family events and participate or attend contests as a guest or to those organized by the town.
EL DANCE DEL PALOTEO
The activity "Dance del Paloteo" has a long history and strong tradition. It was first danced to obtain the relics of the martyrs: San Vicente and San Gonzalo. In 1668 the relics were brought from Rome by the distinguished Archbishop of Granada Sir Diego Escolano, honorary citizen of the village.
Nowadays, the dance is still represented on September 2nd and 8th, at 5:30 p.m. or 6 p.m. The first day is in honor of San Vicente and San Gonzalo, while the other day is in honor of the Virgen de la patrona, patron of the town.
The dance consists of groups formed by four people who make certain movements repeated constantly while they carry out traditional steps defined by the procession, starting and ending inside the church.
It is required to wear a white shirt, a typical sash, dark blue trousers, black shoes, the traditional cachirulo handkerchief around the neck and of course, the two sticks.
RESTAURANT
HOSTAL GRACIA
Ctra. Valencia, km 38
+34 976 142 404
HOSTAL
HOSTAL GRACIA
Ctra. Valencia, km 38
+34 976 142 404